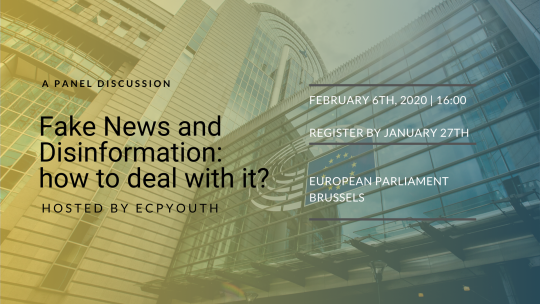 Panel Discussion "Fake News and Disinformation: how to deal with it?"
Registration closed on January 27th, 2020
We are pleased to invite you to the panel discussion about fake news and disinformation and how to deal with them from a Christian perspective. The event will take place at the European Parliament in Brussels. Please, register by January 27th, 2020.
Speakers at the Panel
Ania Helseth, EU Policy Manager for Facebook
Maarten Schenk, Fact Checker, COO/CTO at LeadStories.com
Dr. Adina Portaru, Legal Counsel, IDF International
Practicalities
The event will take place on 6th February 2020 at 4 p.m. at the EU Parliament room ASP1H1. We expect approximately 30-40 participants to attend the panel, mainly young, active aspiring politicians, so it's a great opportunity to network. Registration will be open till January 27th. In order to be allowed to access the Parliament building, please, don't hesitate to register via this link https://forms.gle/KecsFqzfwHcFXix89
Background
Last year ECPYouth activity was concentrated on the phenomenon of fake news. This was a topic of the ECPYouth Regional Conference that was held in December 2018 in Kiev, Ukraine, then Summer School in July 2019 in Tbilisi, Georgia and ultimately of our yearly report, issued by ECPYouth Working Group Politics. The report on fake news phenomenon is a summary of our findings and a fruit of several months' research. Through the Panel Discussion "Disinformation and Fake News: how to deal with it?" we would like to present the topic from diverse perspectives: research/ fact checker's, political, corporational platform's and youth one.
General Assembly, Zagreb.
Registration link: https://forms.gle/dBkSqBoyQrFK8Hjr7
In the context of rapid IT development, technology has become a major part of human life. It is projected that in the next 10 years machines will learn how to behave like humans and imitate emotions. This will lead to ethical, personal and legal dilemmas. Will the promotion of machine-human "relationships" aid in social wellbeing? Or, in contrast, will it create new methods of manipulation?
We must now come together to guide the development and deployment of new technologies. This is an opportunity for us to reaffirm our Christian values. We will unveil how values such as human dignity, cooperation, and environmental stewardship fit into the bleeding edge of technological trends.
Every voice counts! ECPYouth, together with Hrast youth, are coming together to address these issues at the General Assembly of 2020. In order to obtain different perspectives and opinions, please, prepare to answer the question, "Is artificial intelligence a blessing or a curse in modern society?"
Friday, 28 February
16:00 Arrival
18:00 Dinner
19:30 Artificial intelligence. Introduction to the topic. Discussion.
Saturday, 29 February
09:30 General Assembly
13:00 Lunch
14:00 Workshop: Master of Public Speaking
15:30 Artificial Intelligence: Blessing or Curse. Debates.